← Back to portfolio
Long Form Blog to Establish Authority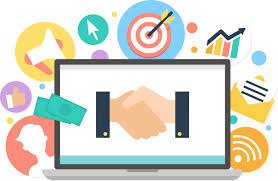 Everyone loves passive income. (Making money while you sleep.) Imagine waking up in the morning, taking a glance at your laptop and seeing the impressive amount of money you have that basically made itself. For many people, affiliate marketing is how they begin this process.
In this article, we are going to show you how to do this with affiliate marketing, covering everything from A – Z. Read on to find out how you can jump on the affiliate marketing bandwagon and start accruing profits easily and quickly.
First Things First – What is Affiliate Marketing?
The basic idea behind affiliate marketing is promotion. You promote other people's products or services and earn a commission if your audience ends up buying – all thanks to your marketing.
Affiliate marketing is based on sharing revenue. Merchants have a product and want to see more sales. To do this, they offer marketers like you a financial incentive – a sharing of the profits. If you don't have a product but want to make money, promote a product that you believe in and earn income through that.
Deep Dive Into the Definition of Affiliate Marketing
There are three parts to the affiliate equation – the product creator (and seller) and marketer. The affiliate themselves is may be referred to as the publisher. Affiliates might be single individuals or entire companies.
Affiliate Marketing – Where You Come In
As affiliate promotes a product and tries to attract potential customers, and convince them that the merchant's product offers value to them, so that they end up purchasing the product.
This may be done by creating a review blog of the merchant's products.

This may be accomplished by building an entire site – one that, say, helps customers find useful products around a particular topic and promoting those.

Social networks, digital billboards, or content marketing on a blog are other ways to promote products for marketers
The Consumer – At the Center of it All
The consumer is at the core of the affiliate marketing system. Without their sales, there will be no commissions and no revenue that may be shared. The consumer may or may not know that they are part of an affiliate marketing system. That's mostly up to the affiliate to decide.
Affiliate Networks
An affiliate network is an intermediary between the merchant and the affiliate. The network can handle payment and product delivery, making your affiliate marketing more serious. At times, affiliates have to go through a network in order to promote a product. This happens when the merchant has only released their product or service on the network. So, the network then will also serve as a database of products to choose from, where you, the affiliate can choose which products to promote.
Different Ways to Promote Merchants
There are a multitude of ways that affiliates can promote merchants. These will depend on the type of site you have built, and what your merchant is selling:
Product review sites – write real reviews, that are honest, about the products. Remember that your audience is relying on you for your opinion and that you will have to build up trust for your endeavor to be a success. That means not glossing over negative aspects of the products, only naming the positives. Be as detailed as possible, offering product specs, useful features and any other details that will genuinely help your audience. Mention the products most useful features to make your audience compelled to buy. Then, your product review will link to the page (with your affiliate ID) where the audience can make a purchase if they are interested.
In text content links – Have you seen a blog post with links to particular products? Place in text links in your blog. If the reader clicks on the link, and makes a purchase, you, the blog owner, will make a commission. You can blend these in text links with other content on the site, and the beauty of this strategy is that the text links blend in with your writing – a great way of promoting an offer subtly.
Email Promotions – If you have build up a sizable email list (500 subscribers or so), you can promote your affiliate offers using email promotions. The key to success here is to build a relationship with your audience first by offering value. Then go for the hard sell after they trust your opinion and enjoy what you have written. (The emails you send out have to contain your affiliate links to products for you to get attribution for the sale).
Discounts and giveaways – If you are part of an affiliate program, you can benefit from promotions they run with nice discounts or giveaways that your audience will find attractive. For example, if you have joined the Amazon affiliate network, and Amazon decides to have a big holiday sale, you can use this opportunity to promote discounts to your visitors. This is a win-win situation: promote your offers, while also providing value to your audience.
Tips to Boost Affiliate Sales so You Can Collect That Commission
Coupons – Coupon sites are extremely popular with online shoppers. Everyone loves saving a buck while they are shopping! Offering coupons is a great way to get other affiliates to place the product you are promoting on their websites. They will collect a commission, but the sales you will drive will be worth it. Just be sure to track the success of coupon codes with time. Give the coupon at least a month before checking on its progress. That way, affiliates will have a decent amount of time to publish and get you sales on the product.
Create quality content – As a marketer, you have heard the phrase "content is king" more times than you can count. Take this to heart. Create marketing materials that explain the product in depth. Obtain proper product descriptions that have keywords, links to images, or other specialized marketing materials from your merchant.
Audit your links and creatives – Look into what is converting well and what did not. Take the information you gathered and optimize your current content. Work with your merchant and keep in close contact with them. Try to find merchants that are on the ball – with banners that update with new information as the merchant supplies it.
Use personality – Be honest with yourself. Are your blog, content or newsletters coming across as boring and stale? Share a personal story that relates to the topic of the product, or have a signature sign off at the end of each communication you have. This will connect with your audience and keep things interesting, bringing your audience back to read more.
All This Sounds Great, But How Do I get Started?
Your affiliate marketing starts with you. Before you begin building your site, narrow down a niche you'd like to target. If you don't know what the site is about, or who you need to target, starting a website is pretty pointless.
Questions to Ask When You Are Targeting a Niche
What do I feel passionate about? (It's much easier to work on something you feel strongly about. Plus, when you have a passion, you are likely to be knowledgeable about the products involved in the niche.)

Is there money in the niche? (Money trumps passion in a profitable niche. If you don't necessarily know much about the niche, if it's likely to make you money, chances are you'll learn more about it pretty quickly.)

What topic can I realistically have the motivation to write 100 blog posts about? (The topic has to have depth so that you can build a lot of content about it. This is good for building an authoritative site for the purposes of SEO – which we will cover next.)

Is there room in this niche for me? There are very popular sites among affiliate markets that are very successful – just make sure there is enough room for you to chisel your way in.

Is there enough interest in this niche? Your audience might enjoy reading about the products in your niche, but not feel compelled to buy. Make sure your niche has market demand.
After you have honed in on your niche, we recommend building traffic before you launch into affiliate marketing. If your financial motive isn't obvious, it will be easier to gain a dedicated readership and earn their trust.
As you have doubtlessly done before as an internet marketer, build out your SEO on your website. http://backlinko.com is a great SEO resource if you are having problems of have any questions getting started with your website opitmization.
Joining an Affiliate Network
We described what the pros of joining an affiliate network are already. But how do you choose which one to join? Ask yourself these questions first:
What type of merchants use the affiliate network (be sure that other similar sellers are also using the network, so you can figure out the likelihood of your success with this program)

How much commission will you make from the products (common sense, but make sure you sign up for networks that will be profitable for you, generating a decent ROI)

Do you want to be associated with these services and products? (the products you promote must be relevant to your audience and good quality. This is key for your sales pitch and building trust with your audience)
What Should Beginners Look for in a Good Affiliate Network?
1. Ease of use. Sign up for a few networks and get a feel for how things work on the back end. If you can, speak to an affiliate manager. See what promotion processes and payment is like..
2. Products in your market. Make sure the affiliate network has products relevant to you in your market. Look for multiple similar products on a network so you can increase revenue.
3. Make sure other people are actually making money on the products you want to promote.
4. Popularity. Bigger affiliate networks attract more vendors, which means a wider selection of things for you to sell.
5. Support. Look for programs that offer support for affiliates and merchants. In any circumstance where a lot of money changes hands, you will want a program to handle disputes.
What are Some Good Networks for Newbies?
ClickBank
One of the largest and most well-known affiliate networks on the market, this network has a great user interface, a lot of support for newcomers and is chock full of products.
Commission Junction (CJ)
Commission Junction is an old, established network that does a good job keeping up with the needs of both publishers and advertisers. They have tons of products, great tracking, and excellent analytics.
Amazon Associates
Although the Amazon Associates program isn't truly an affiliate network, it is one of the largest affiliate programs out there. Although they have a shorter cookie and lower commission than others, they convert really easily.
eBay Partner Program
The eBay Partner program is similar in nature to the Amazon Associates program. Like Amazon, it's not a network, it's the private program of an online retailer – a major one.
There are many other great affiliate networks out there, like Rakuten Linkshare, ShareASale, amd Commission Factory, but this list is a great start for newbies to check out.
Selecting an Advertiser
Factors to consider when selecting an advertiser:
Commission Rate: Although this is probably the first number that most affiliates consider, it isn't everything.

Look for an advertiser with worldwide shipping, cheap shipping, or free shipping in your target demographic.

Look for a popular retailer, because these convert at a higher rate

Look for an advertises that promotes more newsletters and retargeting

See if the advertiser offers a coupon on their own website.
Wrapping it Up
With these tips in your tool belt, you should be equipped to give affiliate marketing a decent go. All it takes is a little determination, education, wise choices and a bit of website optimization, and you should be making money in your sleep in no time!